Baggicase: the waterproof smartphone case for cyclists
We have created the best case for your to carry your smartphone, cards, money and other personal belongings when out on your bike. Waterproof, lightweight, secure, compact and super functional.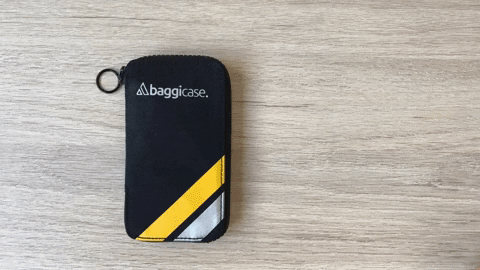 Had enough of riding around with your phone stuffed into an old plastic bag? Freezer bags, sandwich bags, even an old sock!
Yes we've seen them all when riding with our buddies. While they might get the job done, there must be a better way to protect your phone when out on your bike.
Let us introduce you to the Baggicase!We set out with the goal of developing a unique, cutting edge product, based on a very careful design and real attention to detail. We think the results are stunning but the best proof is the feedback we get from pro riders and our customers.
Crafted entirely in Spain with a design reminiscent of cycling's golden era combined with the most innovative materials. Baggicase is truly unique.
BAGGICASE TECHNICAL SPECIFICATIONS:
CAMLOCK: The YKK zipper is waterproof and features a "camlock", which prevents the zipper from opening on its own in any situation.
ANTIBACTERIAL: The fabric used to make Baggicase is antibacterial, which prevents the case from becoming smelly with use. You can carry it in your jersey pocket and even when you sweat it will not smell.
WATERPROOF: All the fabrics used in Baggicase as well as the zipper are waterproof.
RESISTANT MATERIAL: The fabric is resistant. Carry your smartphone and belongings securely.
HANDMADE: Each and every one of the cases that we sell are made by hand by craftsmen and women, all of them.
LIGHT: The three sizes of Baggicase are tremendously lightweight. The small one (S) weighs just 58g, the medium (M) weighs 69g. and the large one (XL) weighs 73g.
Ah! and remember that it is available in 3 sizes, S, M and XL so you can use it whatever model of phone you have.
If you want to stay up-to-date with everything that's going on here at Baggicase, as well as getting access to exclusive discounts and promotions subscribe to our newsletter using the button down below